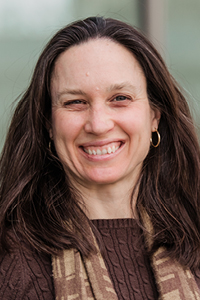 Laura Hussey, Associate Professor, Political Science; and Director, Sondheim Public Affairs Scholars Program
Laura Hussey joined the UMBC community as an Assistant Professor of Political Science in 2008 and was promoted to Associate Professor in 2014. She is a highly respected scholar and dynamic role model who has successfully mentored undergraduate students in a range of fields related to public policy and social change.
Current and former students often say that Hussey's mentoring made an indelible impact on their lives and their careers. They cite her guidance on the fundamentals of empirical research, how to approach issues with an objective lens, her commitment to teaching, and her in-depth feedback. They also tout Hussey's thoughtful approach to helping them identify their specific policy interests, hone those interests in the classroom, and secure internship and career opportunities that allow them to further explore those interests.
As the Director of the Sondheim Public Affairs Program, Hussey mentors students throughout their four years in the program to help them advance their academic goals and prepare them for careers in public service and related fields. She also is a passionate champion for students as a member of the Truman Scholarship Committee.
As coordinator of the Politics, Policy, and Public Administration internship program, Hussey employs a multifaceted approach that includes developing a high-impact core internship course, identifying internship opportunities across the regional political spectrum, reviewing applications, and ensuring each student secures a meaningful internship. She mentors students through every step of the process, providing advice on everything from resumes to office etiquette and from aligning their policy interests and their internship to using what they've learned in the classroom in a professional setting. As a direct result of her efforts, her students have secured highly competitive public service positions at the national, state, and local levels.
In addition to mentoring UMBC students, Hussey has worked with the Maryland Public Service Scholars Programs, serving as a faculty advisor to nearly 80 students in the Governor's Summer Internship Program. She also has taught research method workshops and mentored high school students enrolled in the AP Capstone Program at the Baltimore Polytechnic Institute.
Hussey earned a B.A. in government from the University of Notre Dame and an M.P.M. in public affairs and Ph.D. in government and politics from the University of Maryland, College Park.