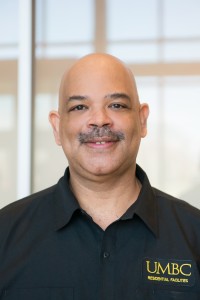 Stephen Slowe, Electronic Locksmith, Residential Life
Stephen Slowe has served the campus in many ways over his 30 year career at UMBC. His strong work ethic and belief in delivering the highest level of customer service is inspirational and a testament to the university's culture of caring.
He has held several positions at UMBC, including work as a carpenter, landscaper, and locksmith. In 2012, when facilities support for residential life moved in-house, Slowe's journeyman-level trade shop practices and procedures were instrumental in ensuring a successful transition of work and responsibility. His professional, courteous, and helpful demeanor is evident in all his day-to-day interactions with the campus community. Since joining Residential Life, the department has received more than 20 "thank you" messages from students who valued his exceptional customer service. In 1998, he received the UMBC Employee of the Month Award for his contributions to the campus.
Known by colleagues as a team player, Slowe has served on all residential life tradesman selection committees and on the facilities management staff development committee. Off campus, Slowe serves on the Stewart Board at Rosemont Community Church in Baltimore and volunteers at the Baltimore Rescue Mission housing and homeless shelter.
Slowe graduated from the Associated Builders and Contractors, Inc. apprenticeship program as a journeyman carpenter and locksmith.