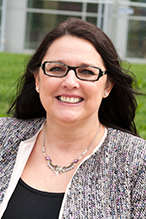 Kathie Seley-Radtke, Professor, Chemistry and Biochemistry

Kathie Seley-Radtke joined the UMBC faculty in 2003. Internationally known in her field, her research in drug design through chemical synthesis is advancing medicinal chemistry and saving lives.
Seley-Radtke's current projects focus on the design and synthesis of chemotherapeutic agents to treat cancer and infectious diseases such as HIV, Hepatitis C, Ebola and MERS-CoV, as well as biological probes to explore the structure and function of DNA. In the last 10 years, she received six National Institutes of Health (NIH) grants for which she is the sole principle investigator, and received NIH funding for the Chemistry-Biology Interface graduate training program, which she directs. This prestigious program is one of about 24 such NIH-funded programs in the country, and is recognized for its innovation and positive cross-disciplinary training impact.
She is one of only a few dozen U.S. scientists to have served the White House as a Jefferson Science Fellow. As part of her ongoing assignment at the U.S. Department of State, she continues to work closely with the U.S. Embassy in Moscow, as well as leading scientists, ministry officials, and the Russian Academies of Sciences and Medical Sciences on national security and bioweapons, in addition to emerging and reemerging infectious diseases.
Seley-Radke is currently the president of the International Society for Nucleosides, Nucleotides and Nucleic Acids, the leading scientific society for her field. She is also a member of the Award Nomination and Selection Committee for the American Chemical Society's Medicinal Chemistry Division and on the Board of Directors of the International Society of Antiviral Research.
In addition to her research, Seley-Radtke has taken a lead role in developing new approaches to attracting and retaining students from diverse backgrounds for the Ph.D. program. She also led efforts to develop a new summer bridge program for incoming chemistry graduate students, designed to improve problem-solving skills and increase retention rates.
Seley-Radtke received her B.A. from the University of South Florida and Ph.D. from Auburn University.