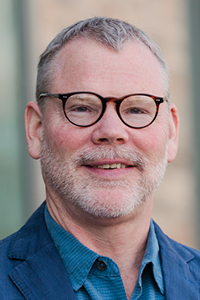 Erle C. Ellis, Professor, Geography and Environmental Systems
Erle C. Ellis joined the UMBC community in 2000 as an Assistant Professor of Geography and Environmental Systems. He was promoted to Professor in 2015. He is widely recognized for his contributions to ecology and geography, including landscape ecology and human-environmental interactions. In 2008, Ellis coined the term "anthromes" (anthropogenic biomes) to describe the first global map of human-transformed ecology. He is also a highly respected teacher and mentor who shares his knowledge and advice with his students, helping them achieve their academic, research, and career goals.
Colleagues at UMBC and around the world have called Ellis a gifted researcher who continuously breaks new ground in interdisciplinary human-environmental research and has been a catalyst for progress in conservation and sustainability sciences. They also cite his ability to produce research of great importance to society, to analyze complex information, and to connect the dots between vastly different disciplines such as ecology and archaeology. Elllis has served as the lead primary investigator for projects funded by agencies including the National Science Foundation, the National Academy of Sciences, the U.S. Forest Service, and the U.S. Geological Survey.
In addition to being a prolific researcher, Ellis has mentored more than 45 undergraduate researchers in his lab. He has provided students with hands-on experiences, including conducting fieldwork in China and in the U.S. His undergraduate researchers have presented their work at national and international scientific conferences. One former student noted that Ellis' mentoring "transformed my career trajectory and undeniably played a role in my success."
Since joining the UMBC faculty, Ellis has published more than 100 scientific articles in journals including Science, Nature, and Proceedings of the National Academy of Sciences. He is ranked as a Global Highly Cited Researcher based on citations of his work, and his research has been covered by The New York Times, National Geographic Magazine, The Discovery Channel, NewScientist, and The Economist just to name a few.
Ellis earned an A.B. in biology and his Ph.D. in plant biology from Cornell University.