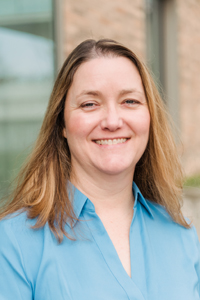 Melody Wright, P.B.C. '18, Academic Business Services Specialist, Biological Sciences
Melody Wright has consistently excelled in positions of increasing responsibility in the Department of Biological Sciences over the past eight years. She goes above and beyond in effectively and efficiently supporting the department's leadership, faculty, staff, and students, while also continuing her own education and serving the University and her local community.
Wright joined UMBC in 2011 as an Administrative Assistant in the Department of Biological Sciences, where she displayed strong interpersonal skills and a talent for process improvement. She quickly established herself as an efficient steward of taxpayer funds by saving the department $25,000 in its office supply budget.
In 2013, she became the department's Graduate Program Coordinator, a complex position that included recruiting and advising students; preparing contracts; ensuring compliance with all Graduate School requirements; tracking student progress; and planning events like the annual Graduate Association of Biological Sciences Symposium and graduate student visit day. She also managed the department's budget and front office staff. Wright proactively took on additional responsibilities and taught herself new skills to enhance and modernize processes. She developed and implemented a new system for guiding students to degree completion and led the department's transition to an electronic recruitment process.
Wright has been Assistant to the Department Chair since 2019, supporting the chair, 36 faculty, and more than 2,000 students. As scheduling coordinator, she uses her strong organizational and interpersonal skills to schedule more than 70 classes, discussion sessions, and labs, often partnering with other departments for cross-departmental courses. Wright also serves as events coordinator, scheduling lectures, faculty retreats, and conferences.
Wright serves the UMBC community as Vice President of the Non-Exempt Staff Senate (NESS) and represents the NESS on the University Steering Committee, of which she is the Vice Chair. She is the first staff member from her department to serve in such a high-profile campus role. Wright is also active in her local community. where she has served as a Girl Scout leader and in leadership positions with her homeowners association.
Wright graduated summa cum laude with a B.S. in business administration from the University of Maryland, University College while working full-time at UMBC. She earned a post-baccalaureate certificate and is working toward a master's degree in instructional systems development at UMBC.