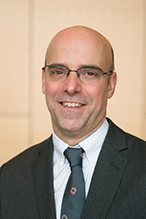 Brian V. Souders, Associate Director, International Education Services
Brian V. Souders '09, Ph.D., Language, Literacy, and Culture, began his UMBC career in 2000 as the University's first full-time study abroad advisor. He demonstrates exceptional service and true professional dedication to students and to the field of international education and fellowships advising.
Overseeing a six-fold increase in the number of study abroad participants, Souders streamlined procedures to create a one-stop shop for advising, application, pre- and post-departure orientation, and credit processing. He actively promotes federally sponsored study abroad scholarships, and hosts workshops to encourage early writing and applications. His concentrated efforts have helped to double the number of Gilman, Boren, and Critical Language Scholarship recipients at UMBC in the last four years.
Souders became UMBC's Fulbright Program Advisor in 2008. He works collaboratively to recruit a diverse pool of applicants, and created a series of innovative summer writing workshops to assist students with applications. In the most recent cycle, he oversaw 35 applications—more than double the largest number of any previous cycle. Since Souders took on this role, 21 UMBC students have completed research projects or taught English abroad through Fulbright.
Souders is chair of the Mid-Atlantic region of NAFSA: An Association of International Educators, and is an advisory board member of the National Association of Fellowships Advisors. He is frequently asked to serve on selection committees for national fellowship awards, including the Critical Language Scholarship Program and Truman Fellowship Program.
Souders was a UMBC Professional Staff Senate (PSS) member for eight years, including two years on the PSS Executive Committee, and served on the statewide professional staff senate and Council on University Staff Senate.
He received his B.A. from Indiana University, Bloomington, M.A. from the University of Illinois at Urbana-Champaign, and Ph.D. from UMBC.