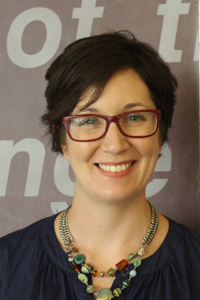 Jessica R. Cook, Associate Director, Sondheim Public Affairs Scholars Program
Since coming to UMBC in 2013, Jessica R. Cook has leveraged her extensive academic and personal experience with service learning and international education to enhance the Sondheim Public Affairs Scholars Program. She has built a reputation as a talented and innovative  program manager and an empathetic advisor and caring mentor who both current students and alumni regularly seek out for guidance.
As Associate Director of the Sondheim program, Cook advises 60 students, recruits future Retrievers for the program, plans public service-related events for the scholars, and co-teaches English and public affairs service-learning courses for first-year scholars.
An innovative program manager, Cook has developed and implemented initiatives to strengthen the Sondheim program. She increased community-building opportunities for scholars by collaborating with colleagues to add activities to the honors orientation program to help incoming Sondheim scholars bond with each other as they begin their higher education journey. She built on this effort by creating and leading a new weekend retreat for all Sondheim scholars to enable cross-cohort community building.
In addition, Cook drew upon her experience in international education to develop, propose, and gain approval to lead a future study abroad service-learning course open to all undergraduate students that will focus on contemporary social issues in South Africa.
Colleagues and students describe Cook as an empathetic, caring mentor and advisor who goes above and beyond for her students, often sacrificing personal time to answer questions and provide guidance on topics such as coursework, public service internship opportunities, and practical aspects of the transition to university life. Many have stated that Cook's insightful advising and mentorship changed the trajectory of their future plans by making them aware of the importance of public service and service learning and the varied post-baccalaureate educational opportunities and career paths in public service. Since Cook joined the Sondheim program, it has produced a number of Fulbright scholars and Newman Civic Fellows, and many alumni have gone on to graduate studies in public service-related subjects.
Cook earned a B.A. in communications studies from Macalester College, an M.A. in leadership in student affairs from the University of St. Thomas, and is working toward a Ph.D. in international education policy from the University of Maryland, College Park.