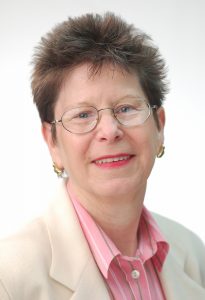 Janet McGlynn, Director of Communication and Outreach, emerita, Office of Undergraduate Education
For more than 15 years, Janet McGlynn has been a champion of undergraduate research and academic success. She has made it her mission during her time at UMBC to develop and support programs and opportunities that provide undergraduate students from all backgrounds with the skills necessary to lead successful professional careers.
McGlynn has led important programs and initiatives for the department and division that have elevated the undergraduate research profile of the university. Under her guidance, Undergraduate Research and Creative Achievement Day (URCAD), a signature annual research focused event on campus, has grown exponentially. It is now host to more than 200 student presentations and over 2,000 visitors each year. The Undergraduate Research Awards (URA) program, for which she has also been responsible, has provided high-achieving students from all backgrounds and disciplines with support for their research and has created strong mentorship opportunities for UMBC faculty.
In addition to her innovative leadership of the URCAD and URA programs, she has managed the UMBC Review, a student journal providing undergraduates with the chance to have their research reviewed and published. She also facilitated the campus-wide New Student Book Experience and led the Travel Awards Committee, which distributes funds for undergraduate travel to professional meetings and conferences.
She received her B.A. and M.A. from The Johns Hopkins University.