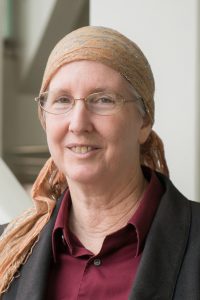 Lorraine Remer, Research Professor, Joint Center for Earth Systems Technology
Lorraine Remer is a well-respected and lauded leader in her field, and her decades of experience and expertise have been a major factor in her recognition as a significant contributor to atmospheric sciences.
Remer joined UMBC in 2012 after a very successful career in the private sector and in 21 years at NASA. Fueled by data collected via remote sensing, she dug into questions addressing how aerosols move over the Earth, influence climate processes such as clouds, and affect particulate air pollution. Today, she conducts research in UMBC's Physics Laboratory for Aerosols, Clouds and Optics with faculty, postdocs and students, while simultaneously teaching courses and serving on graduate committees. Among Dr. Remer's many important research results is the quantification of the amount of nutrient-rich Saharan dust that is transported across the Atlantic and fertilizing the Amazon basin, reinforcing our understanding that we are all part of one interconnected global climate system. She also serves as CEO and minority owner of Airphoton LLC, a faculty start-up company founded in 2012 at the bwtech@UMBC business incubator.
Throughout her career, Remer has been recognized nationally and internationally for her incredible work. In 2014, she was named among the world's top scientists, ranking among the top one percent most cited in her field, and in 2015 was named a Fellow of the American Geophysical Union, an international scientific society of geophysicists. She is an active researcher, participating as PI or Co-Investigator in at least 14 successful funding proposals submitted to federal agencies.
Remer received her B.S. and Ph.D. from the University of California, Davis.