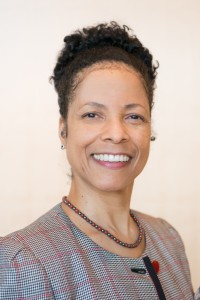 Barbara Ann Smith, Administrative Assistant II, Office of Undergraduate Education
Over the past 14 years, Barbara Ann Smith has made exceptional contributions to UMBC, continually going above and beyond the requirements of her position. She has consistently delivered extraordinary customer service, upheld the highest professional standards, and exhibited strong problem-solving skills.
Smith began her UMBC career in 2002, working as an administrative assistant to the Office of the Provost before moving to the Office of Undergraduate Education (OUE) shortly thereafter. Despite the department doubling in size during her time as an administrative assistant in OUE, she has continually maintained the highest quality of service to all staff members. Colleagues describe her as timely, organized, and thorough, with an attention to detail that is second to none.
Smith's professionalism makes her a role model for all student employees. Under her leadership, OUE established a training program that equips students with a deeper understanding of the demands and expectations of professional work settings. She was an active member of the Shared Services Centers committee, where she applied her expert understanding of business processes to support planning and implementation, and she continues to participate in the next steps that accompany the campus-wide initiative.
Smith is a staunch advocate for continuing education. She has earned several certificates from the Stratford Career Institute and is a proponent of investing in training and development opportunities to advance her understanding and mastery of campus resources.