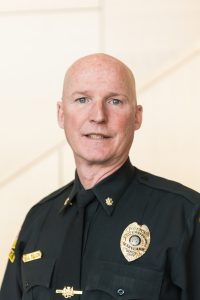 Paul Dillon, Deputy Chief of Police
The public face of the university's police department, Paul Dillon is dedicated to the safety and quality of life of the campus community. Throughout his career at UMBC, he has applied his wealth of knowledge and expertise to ensure a safe and secure environment for students, faculty, and staff to live, work, and learn.
As deputy chief, Dillon has developed, implemented, and led many key public safety initiatives since his start at UMBC in 2010. During that time, he streamlined and expanded the use of the campus text alert system, which is now widely accepted as the principal means of communicating emergency alerts to the campus. In the interest of campus safety, Dillon also played a critical role in establishing an updated emergency preparedness plan, including customized training formats based on the unique expectations of the many different campus groups to educate all members of the campus on their roles in the event of an emergency incident on campus.
Outside of his responsibilities of public safety, Dillon has worked closely with the Facilities Management Department and campus leadership on many high-profile construction projects across campus. Most notably, he was consulted to ensure a seamless integration of a new campus entrance, designed to improve the safety, traffic flow, and aesthetics of UMBC's main entrance to campus.
A strong advocate for equality, tolerance, and inclusiveness, he is a representative and advisor for several campus groups, including the Behavioral Risk Assessment and Consultation Team (BRACT), LGBTQ Climate Group, and Relationship Violence Awareness and Prevention Advocates campus group.
He received his B.S. from University of Maryland, College Park and his M.S. from University of Maryland University College.