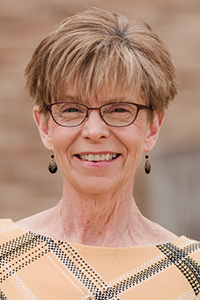 Terisa M. White, Executive Administrative Assistant, Office of Academic and Pre-Professional Advising and the Registrar's Office
Terisa M. White joined the UMBC community in 2013 as an administrative assistant in the Office of Undergraduate Admissions. She moved to her current role as Executive Administrative Assistant in the Office of Academic and Pre-Professional Advising and the Registrar's Office in 2016. White is well known and respected for her high standards, professionalism, and integrity, as well as for seeking out opportunities that go above and beyond her required duties.
As the Executive Administrative Assistant for two busy offices, White manages the schedules for the Assistant Vice Provost and Registrar, and is responsible for myriad other tasks such as procurement, budget, following up on student requests, and assisting with New Student Orientation and the Major Event. She also supervises student workers in the Registrar's Office﹘one of the many responsibilities she has volunteered to add to her already full schedule. She acts as a role model and mentor, and strives to provide students with meaningful work and professional development opportunities.
When UMBC transitioned to remote work and instruction as a result of the COVID-19 pandemic, White used her keen problem-solving skills to develop a process that allowed the Registrar's Office to continue responding to largely paper-based requests efficiently and effectively, avoiding service interruptions and enabling more staff to work remotely. Understanding the importance of personal interactions, she also helped both offices create virtual front counters.
White serves the UMBC community as a member of the Enrollment Management Administrative Assistants Work Group and the Employee of the Quarter Committee. She is a Retriever Essentials board member, supporting students experiencing food insecurity as a case manager for the Save-a-Swipe program, which enables students to donate meals to fellow Retrievers in need.
In addition, White is a coordinator for a program supporting at-risk high school students. Leveraging her experience working with UMBC students, she places high school students in internships across campus and mentors them as they learn about college life and how to work in a professional environment. Because of White's ingenuity, the program was able to continue virtually during the pandemic, ensuring students continued to benefit from the program's academic and professional experiences.
White earned an A.A.S. in business from Mott Community College and an A.A.S. in word processing from Baker Junior College of Business.