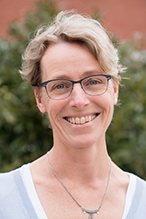 Kate Brown, Professor, History
Kate Brown joined the UMBC faculty in 2000. She is an internationally known scholar whose work is characterized by leaders in the field as original, historiographically fearless, and based on an imaginative approach to sources, oral history, and narrative.
Her collection of essays, Dispatches from Distopia, will be published in April 2015 by the University of Chicago Press. She recently received a two-year collaborative fellowship from the American Council of Learned Societies for the project, "Chernobyl Revisited: An Historical Inquiry into the Practice of Knowing."
Brown's Plutopia: Nuclear Families in Atomic Cities and the Great Soviet and American Plutonium Disasters (Oxford University Press, 2013) was named one of the ten best physics books of 2014 by Physics World. It also won the Ellis W. Hawley Prize from the Organization of American Historians; the George Perkins Marsh Prize from the American Society for Environmental History; the Wayne S. Vucinich Book Prize from the Association for Slavic, East European and Eurasian Studies and the Center for Russian and East European Studies of Stanford University; the Heldt Prize from the Association for Women in Slavic Studies; the Robert G. Athearn Prize from the Western History Association; and the Albert J. Beveridge Award from the American Historical Association. She is also the author of the award-winning A Biography of No Place: From Ethnic Borderland to Soviet Heartland (Harvard, 2004).
She has received prestigious national and international fellowships from organizations including the Woodrow Wilson International Center for Scholars, National Endowment for the Humanities, National Council for Eurasian and East European Research, and Guggenheim Foundation. Her work has been featured in the American Historical Review and the New York Journal of Books, among other publications.
Brown received her B.A. from the University of Wisconsin, Madison and her Ph.D. from the University of Washington, Seattle.