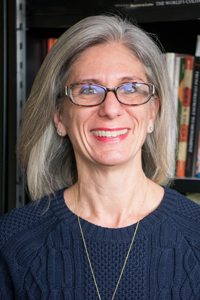 Denise Meringolo, Associate Professor, History, and Director of Public History
Denise Meringolo is at the forefront of community-engaged scholarship and is widely recognized by students and colleagues for her commitment to mentoring students and fostering their career development and success. This dedication has helped her place students in internships and jobs that serve as professional entry points in their fields of interest. Meringolo's purposeful and successful mentoring style has drawn undergraduate and graduate students to UMBC specifically seeking to work with her. 
Meringolo's approach to mentoring is guided by her appreciation and care for students as people and her interest in getting to know their specific needs and goals. As the director of the graduate and undergraduate programs in public history, she mentors students by helping them find internship placements that draw upon their personal passions and professional goals. Her students say she has a gift for finding such placements, which have simultaneously advanced research and practice within the field of public history and led to employment opportunities for the students. She is dedicated to significantly diversifying the field of public history by prioritizing mentoring women, Black, Asian, and Latinx students.
Meringolo's community-engaged public humanities research promotes and supports the communities that surround UMBC. She is dedicated to creating knowledge with and for underrepresented communities. Meringolo was awarded the prestigious Whiting Foundation Fellowship in 2018-2019 for her work in creating an open digital repository for community members to share images, oral histories, and videos in the wake of the Baltimore Uprising. As a Whiting Fellow, Meringolo worked with Baltimore high school teachers and students to develop interpretations about the historical roots of racial injustice and political unrest in the city in which they live and go to school.
She has supported the UMBC community by chairing and serving on master's thesis committees and as the faculty sponsor for dozens of graduate and undergraduate interns. In 2012, she led the creation of an undergraduate minor in public history, resulting in a dramatic increase in undergraduates pursuing public history internships.
Meringolo earned a B.A. in American studies from The George Washington University, an M.A. in English from the University of Maryland, College Park, and her Ph.D. in American studies from The George Washington University.