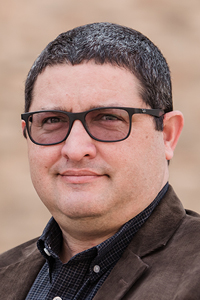 Rubén Delgado, Assistant Research Professor, Joint Center for Earth Systems Technology
Rubén Delgado joined UMBC as a Research Associate at the Joint Center for Earth Systems Technology in 2006 and was promoted to Assistant Research Professor in 2016. He is a passionate and dedicated researcher and mentor who is widely known for his contributions to the study and characterization of aerosols. More recently, Delgado has become UMBC's expert on wind energy measurements, including modeling and locating areas conducive to wind farms.
Delgado's research expertise involves laser remote sensing technologies for measurements and studies pertinent to atmospheric chemistry and physics. These measurements are coupled with satellite retrievals and ground-based concentration measurements of gases and aerosols to better understand the coupling of chemistry and dynamics in air-land-marine interactions. Frequently his work involves comparison of observations with simulation runs from numerical weather prediction models.
A respected researcher who works with faculty across a variety of disciplines, Delgado has established successful collaborations with colleagues in physics, chemical engineering, mechanical engineering, geography and environmental systems, and public policy. He has served as principal investigator on more than a dozen research projects, securing funding from federal and state sources including the National Aeronautics and Space Administration (NASA), the National Oceanic and Atmospheric Administration, the U.S. Department of Energy, and the Maryland Department of the Environment.
Delgado has mentored more than 50 undergraduate and graduate students from a wide variety of disciplines, including atmospheric physics; math and statistics; computer science; chemical, mechanical, and computer engineering; biology; physics; geography and  environmental systems; and environmental science. This approach has made his research team one of the most interdisciplinary on campus.
In addition to his contributions at UMBC, Delgado has served as a panel member for NASA postdoctoral programs and on a National Academy of Sciences committee for a workshop on the planetary boundary layer. He regularly co-chairs sessions at national and international research meetings, and has made more than 100 presentations at such meetings over the course of his career. In addition, Delgado has co-authored more than 20 peer reviewed journal articles.
Delgado earned a B.S. in chemistry from the University of Puerto Rico, an M.S. in physical chemistry from the University of Wisconsin-Madison, and an M.S. and Ph.D. in chemistry from the University of Puerto Rico.