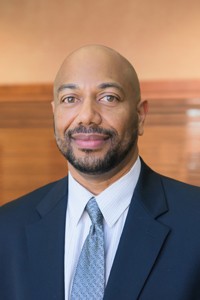 Shawn Bediako, Associate Professor, Psychology
Over the past 10 years at UMBC, Shawn Bediako has been a leader in the advancement of mentorship and professional development for faculty members and their academic careers.
Bediako's professional accomplishments have been fundamental in supporting the academic career advancement of other UMBC faculty members. He has mentored a wide range of faculty and postdoctoral scholars at UMBC and beyond. Most recently, in collaboration with other campus faculty, Bediako created the UMBC Summer Writing Accountability Group (SWAG) to help participants maintain their work/life balance and increase their research and writing productivity within a supportive community environment. Over the course of 19 weeks, a total of 60 faculty, administrators, and instructional staff collectively logged more than 1,800 hours of writing time toward advancing their manuscripts, book chapters, and monographs.
Through his passion for cultivating a career that aligns personal values with professional goals, Bediako has used his experiences to help UMBC faculty balance their work and life by teaching techniques that optimize efficiency so that they find greater fulfillment as scholars and researchers.
Bediako is a leader in the field of community health psychology and is internationally known for his research on the clinical implications of sickle cell disease stigma and its impact on health-related outcomes. His honors include, among others, the Innovator in Academic Hemoglobinopathies Research Career Development Award from the National Heart, Lung, and Blood Institute of the National Institutes of Health and the Champion Award from the Sickle Cell Disease Association of America. He also is a member of the UMBC Executive Committee on the Recruitment, Retention, and Advancement of Underrepresented Minority Faculty and one of the founders of the UMBC Postdoctoral Fellowship for Faculty Diversity.
Bediako received a B.S. from the University of Central Arkansas and an M.A. and Ph.D. from Stony Brook University.