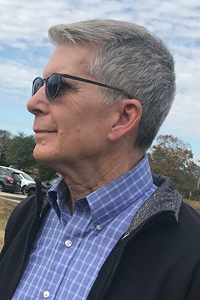 Larry Hennessey, Associate Director, Design and Construction Services, Facilities Management
Since joining the UMBC community in 2007, Larry Hennessey has tirelessly supported the health of the natural environment of UMBC's campus. His commitment and passion have made a measurable, significant impact on the health of our local ecosystem and waterways. Hennessey is truly a public servant, exemplifying UMBC's belief that public service goes beyond serving people to serving our environment. He does both with skill, enthusiasm, and dedication and inspires other members of the UMBC community to do the same.
Streams on UMBC's campus lead to the Patapsco River and eventually the Chesapeake Bay. Both are treasures worth preserving for the future, and Hennessey has made it his mission to positively influence their health. He has also worked tirelessly, both on campus and in nearby Baltimore City, to proactively address invasive plants and retain the biodiversity of our campus' natural areas. He is respected across campus for his consistent, long-term commitment to conservation efforts and for the way he inspires students to get involved in this important work.
As an advisor to the  Environmental Task Force (ETF), Hennessey is training the environmental stewards of the future. He participates with ETF members in stream clean ups every week and when needed, he provides supplies for the students with his personal funds. He mentored the ETF student leaders through the process of applying for a Keep Maryland Beautiful grant, providing structure and support while empowering them to own the project. He lives by example, taking small steps every day to improve our local environment, and to train the leaders of tomorrow in how to become staunch advocates for sustainability wherever they are.
Hennessey earned a B.A. in geography and environmental engineering and a B.S. in civil engineering from Johns Hopkins University. He is a registered professional engineer in the State of Maryland, holds certifications from the Construction Specifications Institute in contract administration and specifications, and is Leadership in Energy and Environmental Design (LEED) accredited. He is a member of the American Society of Civil Engineers, the American Institute of Architects, and the Construction Specifications Institute.