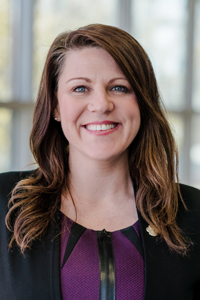 Amanda M. Knapp, Associate Vice Provost and Assistant Dean, Division of Undergraduate Academic Affairs
Since joining the UMBC community in 2011, Amanda M. Knapp has developed a reputation for promoting all aspects of student success and upholding the integrity of UMBC's academic standards through uniform application of policy, ensuring that all students are treated fairly and equitably. Her visionary contributions, collegiality, and commitment to student success are recognized across UMBC.
Knapp leveraged her experience, enthusiasm, process improvement skills, and innovative vision in starting new programs by leading the creation of three major new student success initiatives over the course of one year. She was instrumental in making UMBC's  vision of an Academic Success Center to provide academic support and guidance to students from all majors a reality. She led the creation of the Office of Academic Advocacy, chairing the search committee, hiring and training three academic advocates, and working with the Division of Information Technology to develop a new case management system to assist the advocates' student outreach efforts. She also coordinated the Undergraduate Student Success Committee's initiatives and focus groups, enabling it to move forward in a strategic, meaningful way while empowering members to focus on their particular areas of expertise.
Knapp also supports the broader UMBC community by leading or serving on more than 20 divisional, University-wide, or University System of Maryland committees or workgroups, providing mentoring for the Professional Staff Senate, and supporting the Phi Kappa Phi National Honor Society.
As a first-generation college student with a Ph.D., Knapp serves as an example for and mentor to other current and prospective first-generation students. An avid off-road motorcycle racer, she often volunteers her time and expertise to support young women and race families around the country who are seeking guidance about higher education. Knapp often uses racing references to describe the parallels to higher education to make the topic relatable.
Knapp earned a B.S. in business administration with a concentration in human resources management  and an Ed.M. in education with a concentration in higher education administration from the University at Buffalo, the State University of New York; and her Ph.D. in education policy from the University of Maryland, College Park.