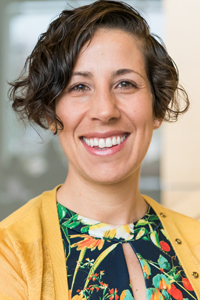 Jess Myers, Director, Women's Center
As Director of the UMBC Women's Center, Jess Myers constantly strives to support and advocate for intersectional feminism, critical sexuality and gender awareness, and anti-racist perspectives with the goal of moving them from the margins to the mainstream of campus life. Myers' relational skills, empathy, strategic thinking, fierce advocacy, and collegiality have been transformative on campus, especially as the UMBC community strived to come together to heal and make important changes in how the University prevents and responds to sexual violence.
Myers and the Women's Center have been at the epicenter of UMBC's response to sexual violence, meeting with survivors and serving as a resource for faculty and staff. She played a key role in developing and implementing the Retriever Courage initiative. Myers has built her reputation by displaying integrity and compassion, and by being an insistent but politically astute advocate for institutional change. She has earned the respect and trust of students, faculty, staff, and administrators.
Since joining UMBC in 2011, Myers has shown her commitment to diversity and inclusion by creating innovative social justice programming  and through exceptional contributions to the University's mission of valuing cultural and ethnic diversity, social responsibility, and life-long learning. In recognition of this work, she received UMBC's 2017-2018 Jakubik Family Endowment Staff Award.
Myers spearheaded the interdisciplinary Critical Social Justice initiative, which explores social justice in theory and practice. She has been instrumental in the growth of the Returning Women Students Program, which offers workshops and programs focusing on the academic, personal, and professional aspects of life as a returning woman student.
Myers is active in the Mid-Atlantic Women's Center Directors group, has served as a panelist and presenter at local and national conferences, and has published several articles. In 2015, she received the Outstanding Achievement Award from the National Women's Studies Association Women's Center Committee. She has also been honored with a University System of Maryland Women's Forum Professional Development Award. Myers is also a leader in her local community, where she has volunteered with several advocacy groups supporting survivors of sexual assault.
Myers earned a B.A. in social work from The Catholic University of America and an M.S. in student affairs in higher education from Colorado State University.