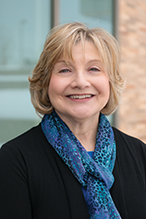 Eileen O'Brien, Senior Lecturer, Psychology
Eileen O'Brien joined the UMBC faculty in 2003, and since then has spearheaded successful innovations in course design on campus and throughout the University System of Maryland (USM). She is dedicated to improving the classroom experience for students and faculty, and enhancing the preparation of graduate students for careers in college and university teaching.
O'Brien's course redesigns are improving student engagement and learning experiences through the use of student-friendly course sites, small group activities, active learning in the classroom, and improved assessment. At UMBC, she first led successful redesigns of Introduction to Psychology and Developmental Psychology, which led to funding for the redesign of four gateway courses across disciplines. O'Brien also initiated two innovative teaching programs that provide excellent student leadership opportunities. The Psychology Teaching Fellowship offers graduate students the opportunity to teach a psychology course with close guidance from a faculty member. The Psychology Peer Mentor Program provides high-achieving undergraduate students leadership opportunities both in and out of the classroom.
As a course redesign fellow with the USM, O'Brien assisted four other campuses with planning and evaluating their redesign efforts. Outcomes for these redesigns show increased student satisfaction and performance, reduced faculty time for lower level courses, decreased cost per student, and decreased drop-fail-withdraw rates.
O'Brien has also led several Scholarship of Teaching and Learning workshops related to pedagogical innovation. She worked with the Faculty Development Center to create the Faculty Learning Communities program, which brings faculty together for regular discussions of topics related to teaching and learning, such as learning outcomes and assessment, and diversity and communication in the classroom.
O'Brien received her B.S.N. from the University of Pittsburgh and her M.S.N., M.A., and Ph.D. from the Catholic University of America. She is also a Registered Nurse.