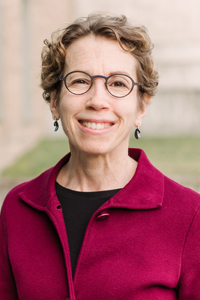 Rachel Brubaker, M.A. '00, Assistant Director, Grants & Program Development, Dresher Center for the Humanities
Rachel Brubaker's appreciation for the critical role history, the humanities, and the arts play in our understanding of the human condition, and her dedication to promoting scholarship in these areas, has placed UMBC at the forefront of humanities scholarship, instruction, and research. Her creative thinking and resourcefulness in seeking funding for humanities and arts research is a cornerstone of UMBC's commitment to academic innovation and greater engagement in solving our most pressing issues.
During her time at UMBC's Center for History Education, Brubaker's skill for writing grant proposals and community building brought $8 million to the University to provide professional development for K-12 history teachers in Maryland. As a result, hundreds of teachers across the state were able to participate in programs to help them create lessons that would instill their students with a love for learning about history to improve their critical thinking skills.
Brubaker joined the Dresher Center for Humanities as Assistant Director for Grants & Program Development in 2014. In this role, she has helped faculty develop innovative grant proposals for major humanities organizations including the Andrew W. Mellon Foundation, the National Endowment for the Humanities (NEH), the National Endowment for the Arts, the Carnegie Corporation of New York, and the John Simon Guggenheimn and Coby Foundations. As a direct result of her work, UMBC shared in a grant from the NEH's Humanities in the Public Square program for "Baltimore Stories: Narratives and the Life of an American City." She was also instrumental in securing a Mellon Foundation grant for a major partnership with Bowie State University, Coppin State University, and Howard University for "The Inclusion Imperative: Programs in Support of Diversity in the Humanities." Brubaker also secured funding from multiple sources for "A Designed Life," a traveling exhibition organized through UMBC's Center for Art, Design & Visual Culture, as well as an accompanying scholarly publication.
In addition, she has helped UMBC faculty to apply for and win prestigious fellowships at the Library of Congress, the United States Holocaust Memorial Museum, The Whiting Foundation, the National Humanities Center, the Carnegie Foundation, the National Endowment for the Humanities, and American Council of Learned Societies, among others.
Brubaker earned a B.F.A. in arts and design from Virginia Commonwealth University and an M.A. in historical studies from UMBC.