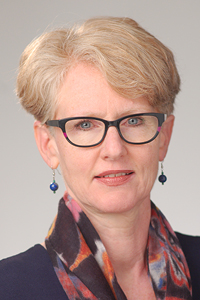 Kathryn McKinley, Professor, English
Kathryn McKinley joined the UMBC faculty in 2008 as an Associate Professor of English and was promoted to Professor in 2017. She has earned the respect of her colleagues and students for her passionate commitment to teaching, her thoughtful mentoring, and her innate ability to engage her students and spark their excitement for learning.
A respected scholar in medieval literature, McKinley has enhanced UMBC's curriculum by creating several courses in medieval and early modern literature. She also collaborated with colleagues from ancient studies, African studies, history, visual arts, and music to create the interdisciplinary Medieval and Early Modern Studies (MEMS) minor. One former student noted that McKinley's work has made UMBC "a hub for medieval studies," and the MEMS minor has drawn numerous students to the University.
McKinley is known for her hands-on, multimodal approach to teaching which invites students to be active participants in their education. A colleague noted that her teaching style includes a "marvelous blend of rigor and excitement and imagination and caring." Former students point to McKinley's ability to bring medieval literature to life through classroom discussions and exercises such as staging a medieval banquet and performing skits based on the reading material.
She also encourages students to study original medieval texts and artifacts in person through museum visits. McKinley has long incorporated digital resources into her courses, providing students the opportunity to study digitized material from the medieval period online. This existing digital course component helped her pivot to the virtual learning environment required during the COVID-19 pandemic.
McKinley is described as a thoughtful mentor who provides advice and guidance to undergraduate and graduate students, helping them to identify and pursue their passions. Colleagues and students cite her ability to help students succeed beyond their initial goals and to develop as scholars. McKinley has helped students identify and secure meaningful internships and guided them through the process of applying for grants to further their research. Her mentees include Corbin Jones '18, M.A. '20 , who conducted manuscript research in Paris under her guidance and will continue graduate work in medieval studies in Cornell University's doctoral program this fall.
McKinley earned a B.Phil. in English/classics from the Pennsylvania State University, an M.A. in classics from the University of Toronto, and her Ph.D. in English from the University of Delaware.