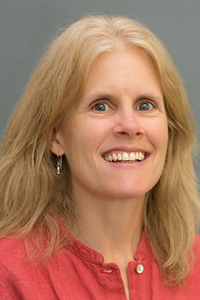 Kathy Chetelat, Interlibrary Loan Supervisor, Albin O. Kuhn Library & Gallery
Kathy Chetelat joined the UMBC community in 2006 as a part-time collection management specialist at the Albin O. Kuhn Library & Gallery, where she quickly established herself as a detail-oriented self-starter with excellent organizational skills. In this role, she was responsible for processing book donations, managing the library's annual book sale, and assisting with interlibrary loan tasks.
After a series of retirements in the library, Chetelat accepted a full-time position on the interlibrary loan (ILL) team in 2017, hitting the ground running and earning a reputation among library users and staff for being friendly, professional, helpful, and thorough. Within a year, she moved to her current position of Interlibrary Loan Supervisor, taking on this complex leadership role with little preparation, minimal support, and no formal management experience. Chetelat has excelled in this environment, quickly grasping the position's technical requirements, hiring and training two ILL specialists, modeling and maintaining the highest level of customer service for her team and herself, and becoming a gifted and intuitive manager.
Under her leadership, in FY 2020, the ILL team responded to more than 9,000 requests from UMBC students, faculty, and researchers for books, articles, media, and other items that our library does not own, and more than 12,000 requests from partner libraries. In order to fulfill these requests, Chetelat often undertakes additional research and collaborates with requestors, lending partners, and reference librarians. In addition, Chetlat led a complete redesign of the ILL guidelines and service expectations and drafted the first formal budget for the department.
Due to her strong work ethic and commitment to customer service, the  Associate Director for Public Services chose Chetelat to serve on the Division's leadership team. In this role, she works with other department heads on projects that affect user-facing services, including the Mind Spa, a collaboration with the Counseling Center to help students relax, improve concentration and memory, and be successful through techniques such as mindfulness and meditation.
In the wake of the COVID-19 pandemic, Chetelat has worked tirelessly to adapt ILL services, first to a remote environment, and later by working on-site to process requests, scan materials, and perform other tasks necessary to ensuring that her department is able to continue to maintain its excellent record of service to library users.